When your government with a track record of systematically attacking universities, scrapping institutional autonomy and stifling freedom of speech and expression among students and teachers alike introduces an educational policy with bucket full of utopian promises peppered with words like Privatization, Commercialization and Digitalization – question that.
As you all are busy soaking in the potent utility of Modi-government-approved new National Education Policy, it's my self-avowed duty to put forward my 'seemingly' pillorying insights. Though to be clear, like you all, I am also suffering from Stockholm syndrome and trust me, it is just an unintentional product of my serious concerns for class-war, economy and education, which is unfortunately our only defence.
Before presenting the much needed critique of this holier-than-thou new National Educational Policy, let me clear the fact that previously I had no intention to decry another governmental document of fancy promises, not because of it's veracity, obviously; but because I do not think it is going to be implemented any time soon.
National Educational Policy dates back to 1964, when Congress MP Siddheshwar Prasad criticized the then government for lacking a vision and philosophy for education. The same year, a 17-member Education Commission, headed by then UGC Chairperson D S Kothari, was constituted to draft a national and coordinated policy on education. Based on the suggestions of this Commission, Parliament passed the first Education Policy in 1968. The new NEP usually comes along in every few decade. India has had three NEP till date. The first came in 1968 and the second in 1986, under Indira Gandhi and Rajiv Gandhi respectively; the NEP of 1986 was revised in 1992 when P V Narasimha Rao was Prime Minister and the third NEP released on 29th July, 2020 under the current Prime Minister Narendra Modi.
The new NEP presented by the Modi cabinet is the first in 21st century and also the first to not be presented in the Parliament and I do not wonder why. Before another round of unnecessary commotion, let me tell you, that it is only a policy, not a law and implementation of this proposal depends on further regulations by both states and the centre only if the National Higher Education Regulatory Council (NHERC) is not one of those faceless organizations, George Orwell wrote about in 1984. And also, by the mercy of BJP government, education is still a concurrent subject, touchwood.
Before moving forward, let me make it very clear that I'll only criticize few points here which I find worth mentioning. For in depth study of NEP, I would suggest you to read the official document released by the Ministry of Human Resource Development or may I say, Ministry of Education.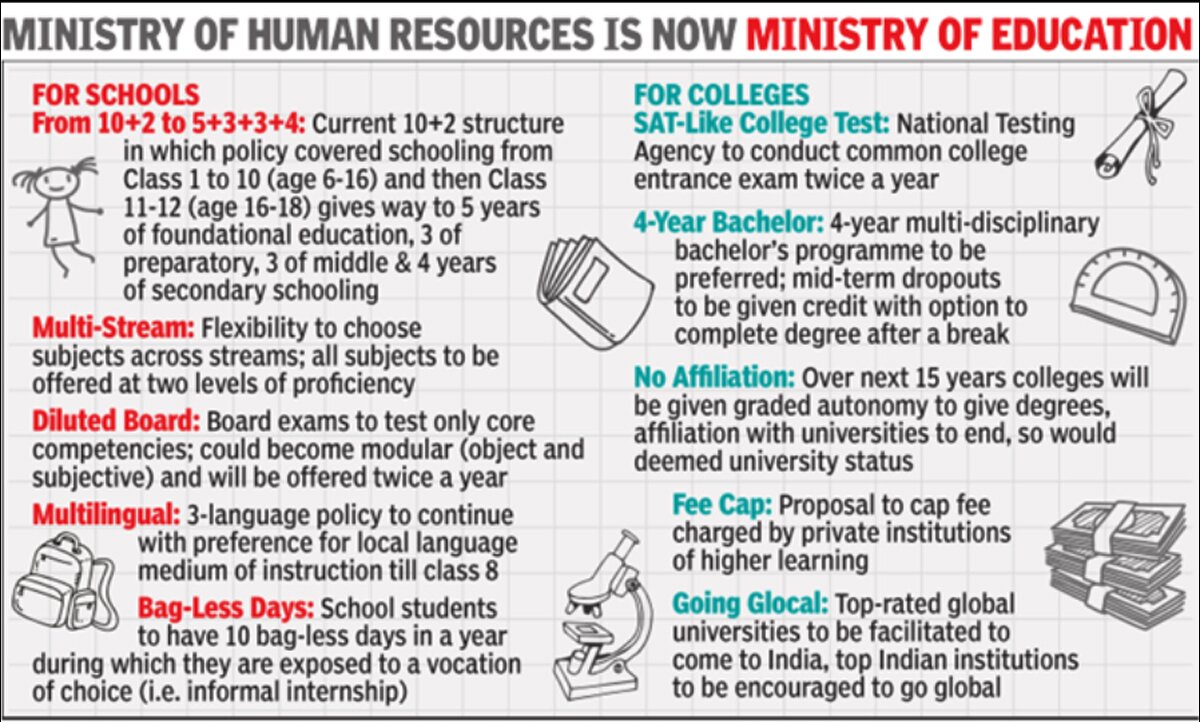 As we all know, NEP proposes to change the school curricular structure from the current 10+2 with a 5+3+3+4 structure, bringing children from age 3 to 5 years within the formal education system. But how many of you noticed that examinations are proposed to be conducted only in Classes 3rd, 5th and 8th standard. Well, I am not really a nerd, but I personally believe that examinations are not just for checking the student's potential, but a touchstone, a check and a preparation for future educational life. This elimination of annual examinations for junior classes is not something worth cheering about. Not to offend anyone but why to prepare the students for communism when we live in the cut throat capitalistic world?
The mention of classes reminded me of the gravest implications of NEP, that is on the majority of those covered under SEDGs (Socially and Economically Disadvantaged Groups). In NEP 2020, there's no mention of the term "caste", apart from a fleeting reference to Scheduled Castes. Adding to that, there was no mention of reservation in academic institutions, whether for students, teachers, or other employees. It's nothing new that caste-based reservation is not something BJP government is against, reasons varies from appeasing upper caste Hindus to formation of meritocratic hubris. Despite firm opposition to affirmative action in the civic life of this country, I believe that it's elimination is corrosive not only of the sense of commonality but also of common. It renders the people of lower caste not only unemployed but also unemployable, which in turn hollows the whole idea of democracy. This is a frightening dystopia at least for the people with little alive conscience.
Coming to vocational education, which has been proposed from 6th standard in the NEP. I am also a huge fan of John Dewey's hands-on approach, but keeping in mind the child behavior and parental attitude towards education in our country, I don't think it's a viable option. Thinking of the debilitating effect it'll have on student's work-ability, say for example, if a student is so fond of animals and not so good in studies, there are 80% chances that she in between standard 6th-10th, without thinking about the meta consequences of her choices will decide to go for a career option in animal care and management instead of pushing her limits when it comes to studies, because that's how our psyches are designed to work. We tend to go for easier options, especially when we don't care about money, but will anyone bother telling this 14 year child about the income and lifestyle differences of a banker and a pet adoption counselor along with the importance of money?
Board Examinations will become holistic and easier, only to reduce the so-called unhealthy competition and pressure on students. Who calls the competition 'unhealthy'? Not toppers for sure. Though I am not a topper, neither do I believe in academic vying but this whole idea of running away from competition will make students all the more weak. Teach your kids that winning is not important but the desire to win is, tell them the difference between earning and deserving. Ask them not to gloat after winning and most importantly, tell them not to be downhearted even after losing as defeats are the means to victory and if you're strong enough to bear the pain of loss, you're ready to conquer anything.
It's interesting to note that in the endless list of subjects such as philosophy, music, language and literature, subjects such as women's studies or gender studies, cultural studies, media studies, Dalit studies, studies of discrimination and exclusion, environmental studies and development studies, all of which are developed over the last three or four decades are missing and we as a responsible citizenry should question about it.
Digital education in NEP 2020 most likely requires additional government funding, but I wonder how the government will deliver on it's fictitious promise of spending 6% of the GDP on education when it has already fallen from 4.14% of GDP in 2014 to 3.2% right now? This digitalization will ultimately lead to fee hike and further the gap between the poor and the rich, promoting privatization of public education. Sounds like some pre-planned brainchild of the capitalist government.
My last but the most important argument, I don't think I need to state the secondary reasons like 'problems of parents with transferable jobs', 'translation of primary books in vernacular languages' or 'cipher importance of Sanskrit and Hindi language in the academic field' when it comes to allowing teaching in vernacular languages till 5th standard, owing to the growing importance of English language and how the lack of command on English is already impeding the progress of the nation.
If till Class 5th, students would be communicating in their mother tongue, will we start with the basics of English in Class 6th? In order to form strong base, language development incorporates listening, speaking, reading and writing, in short, surrounding yourself with the language completely, so as far as I believe, this is the worst our government could do to us. Without good command on English, we cannot even think of jobs in white collar professions and legalities but who has the audacity of asking the government to stop making mockery out of our lives? It will also deepen the class differences as no Doon school will give up on English knowing the global importance of the language and at the same time, students of modest means will continue studying in Hindi or other vernacular languages which will further separate their lives from the affluent class.
As I am well aware of the fact that none of my legitimate grievances will tap the wellspring of your anxiety so here is my argument from a patriotic standpoint. China is spending a lot of funds, resources and labour on learning English language and we're far ahead of them when it comes to English, so why to sacrifice the only advantage we have against them?
Apologies, because I had no intention to stop you from gushing over the new National Educational Policy, but as a woke student, it is my duty to request you to revisit NEP once again before it actually gets implemented, only if it's implementation is possible.
Sadaf Parvez is a student pursuing Law from Jamia Millia Islamia.
edited by: Nuzhat Khan
Disclaimer: The opinions expressed in this publication are those of the author. They do not purport to reflect the opinions or views of The Jamia Review or its members.
Disclaimer
The opinions expressed in this publication are those of the author. They do not purport to reflect the opinions or views of The Jamia Review or its members.