The government of Uttar Pradesh, led by Yogi Adityanath has given its nod to an ordinance that makes coerced religious conversions a felony, implying an increment in the dissemination of Love Jihad. For those who aren't aware of the term 'Love Jihad', let me break it down for you in simple words. Love Jihad or Romeo Jihad is an Islamophobic conspiracy theory alleging that Muslim men target women belonging to non-Muslim communities for conversion to Islam by feigning love.
The UP Cabinet concurred with this decision and cleared the anti-conversion ordinance on November 24, shortly after the Allahabad High Court upheld the right to freedom of choice of individuals. The new law has formulated some stringent punishments, mandating the imprisonment of the accused person for a span of 1-5 years if convicted of carrying out forceful conversions for marriage. Moreover, the law also renders the state of power to nullify any marriages found to have been carried out with the "sole intention" of changing a woman's religion. If the conversion is of a minor, a woman belonging to a SC or ST, then those found guilty would have to face a jail term for 3-10 years, with a minimal fine of Rs. 25,000. On the other hand, if such a conversion is found at a mass level, then the accused would be put behind the bars for 3- 10 years, plus a fine of Rs. 50,000.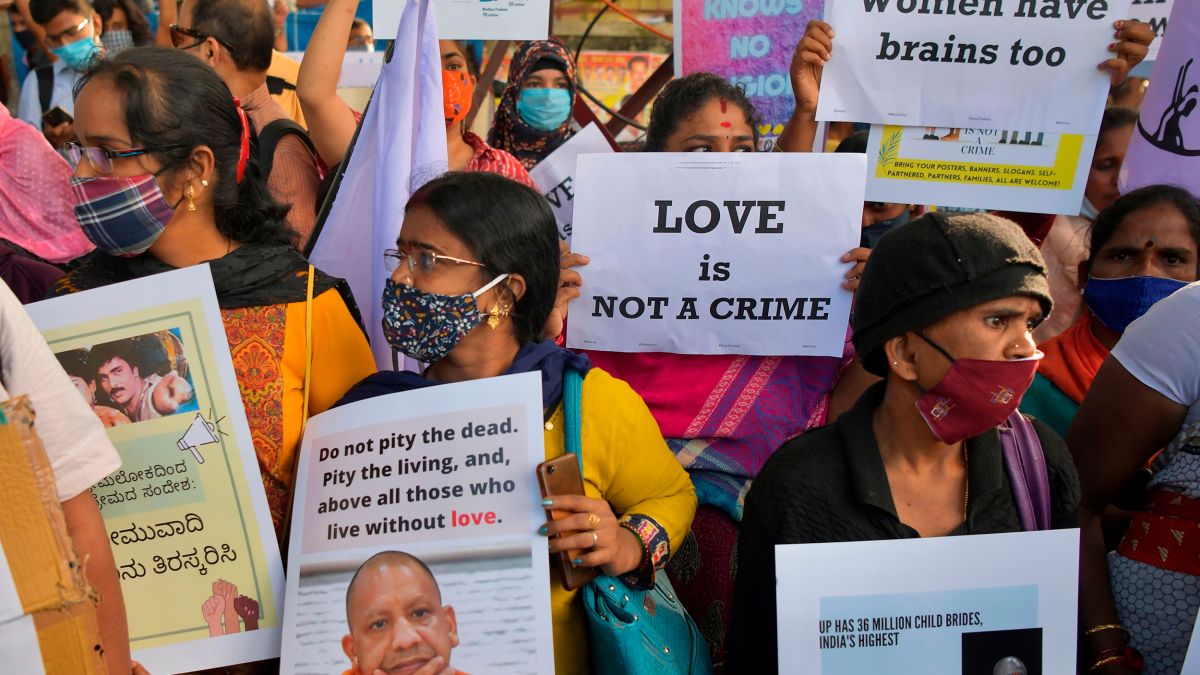 This ordinance is a conspicuous blot on the secular fabric of India, wherein the government, in lieu of finding ways to mitigate the pain and plight of the poor amid the lockdown, is busy fabricating laws that makes us question the idea of secularism. It seems nothing more than a political stunt pulled off by the UP government, using religious discord and caste conflicts as a medium to drive a wedge in the society. Also, this baseless conspiracy theory implies that Muslim men are trying to shift India's demographic balance by converting Hindu women to Islam through marriage. The conspiracy has received renewed attention after the murder of a Hindu woman in Haryana in October by a Muslim man who, as her family claims, had pressurized her to convert into Islam.
The Allahabad High court ruling leaves UP's 'Anti-Love Jihad' ordinance with no legal legs to stand on after passing its verdict asserting that that an adult's decision to live with another adult of their choice is "strictly a right of an individual", and a violation of this right would regard to the violation of their "fundamental right to life and personal liberty as it includes right to freedom of choice, to choose a partner and right to live with dignity as enshrined in Article 21". "Any sort of interference in a personal relationship would constitute a serious encroachment into the right to freedom of choice of the two individuals," the High Court said in its order. The Allahabad jurisdiction excoriates the unconstitutional ordinance and has pointed out that a disturbing arbitrariness has crept into policy making; institutions have decayed and the economy's structural deficiencies have worsened. Be it renaming states or monuments, UP government's object of prime concern has always been religion-based issues. Passing such a law again solidifies the fact that their target is solely to make religion-based agenda rather than ameliorating other significant issues.
The people of India need to stand united especially at a time when the country already has so many challenges in front of it such as the Covid-19 pandemic whose cases are rising at an unstoppable speed, to the economy going downhill, and even the twin security threats posed by China and Pakistan. Divisive and polarizing 'love jihad' laws undermine such unity and aid our adversaries. The intrusion of liberty-destroying state power into personal decisions like marriage choices is no doubt pernicious. The promulgation of anti-conversion law clearly criminalizes Hindu-Muslim marriages, which are deemed "fraudulent" on the grounds that they are designed to impel religious conversions and are being painted as sinister attempts by Muslim men. The clear-cut flaw of this law lies in the fact that the onus of proving that the conversion was not compelled rests completely on the shoulders of the person who has converted and anyone can accuse him or her of a frivolous charge of forced conversion. The ramification of a such a flaw may lead to the arrest of the couple by the police in an attempt to please their political bosses. Another troubling detail of this law states that if a person wants to convert for the sake of marriage would have to provide a 2-month notice to the local district magistrate. This flaw leaves an interfaith couple highly vulnerable for those 2 months within which they can be subjected to humiliation, intimidation and what not. This might eventuate in the couple giving in and breaking off their relationship.
The true test of a democracy is how its laws stand with regard to the life and liberty of its citizens. The Love Jihad law sounds gender neutral, but in reality, it views women as "hamaari bachchiyan" or mindless infantilized objects who are utterly controlled by patriarchs, denying them individual freedom to choose a partner on their own accord. This law cannot stand the fact that in the 21st century, love is a socially revolutionary force that is breaking the barriers of religion, caste, community and even gender, knitting people together. On top of that, it is overtly contributing in the propagation of hate sentiments all across India and reeks of Islamophobia implicitly.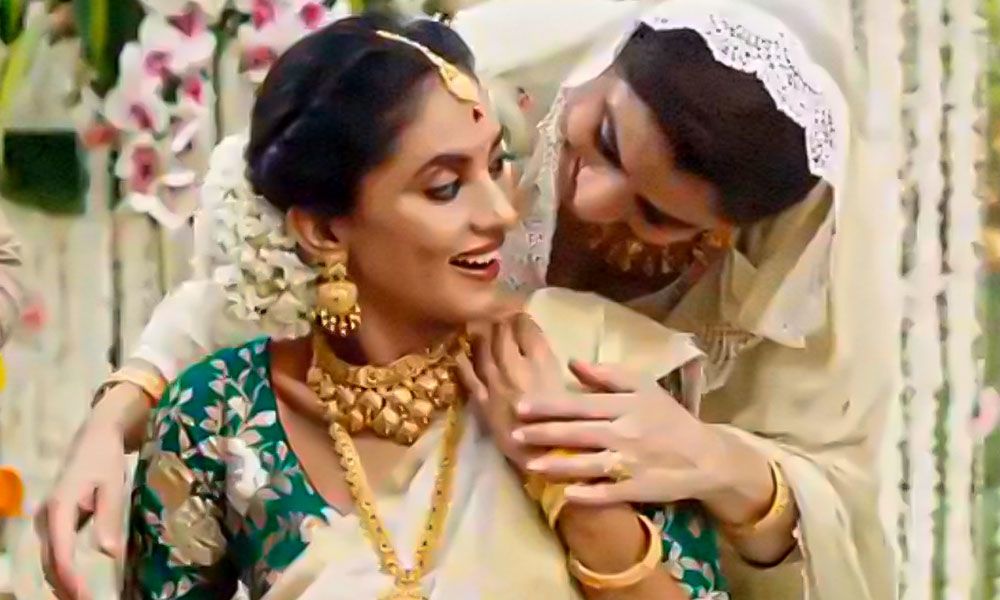 In a country where an interfaith knot tied between two celebrities is sorely celebrated, the same country is making laws to deprive the local citizens of their right to choose a life partner freely and thus impeding the practice of liberty. Lately, the Love Jihad conspiracy gained prominence in October, when an advertisement sparked a controversy for depicting a happy interfaith marriage between a Hindu woman and a Muslim man. The ad was withdrawn right away by the jewelry company Tanishq, after receiving hateful remarks and complaints from Hindu nationalists, claiming that it promoted so-called Love Jihad, whereas it's only aim was to propagate love and unity irrespective of a person's caste or creed.
Now the idea of this whole law prompts one obvious question that what is the use of studying our fundamental rights and Constitution and not being able to actually practice it freely? Interfaith marriages must be celebrated and not criticized for the independent India's founders wholeheartedly supported inter-religious marriage, seeing it as a sign of social progress and enhancement of democracy. When Indira Nehru, a Hindu, married Feroze Gandhi, a Parsi, Mahatma Gandhi quoted, "Such unions are bound to benefit society". For Ambedkar, "The real remedy for breaking caste is intermarriage," when he was convinced that intermarriages could liberate India from caste prejudice. In fact, BJP leaders M.A. Naqvi and Shahnawaz Hussain are married to Hindus. Hence, diversity will be truly meaningful only when India celebrates rather than criminalizes Hindu-Muslim marriages.
Ilma Mujeeb is a student pursuing English Literature from Jamia Millia Islamia.
Edited by: Shaireen Khan
Disclaimer: The opinions expressed in this publication are those of the author. They do not purport to reflect the opinions or views of The Jamia Review or its members.